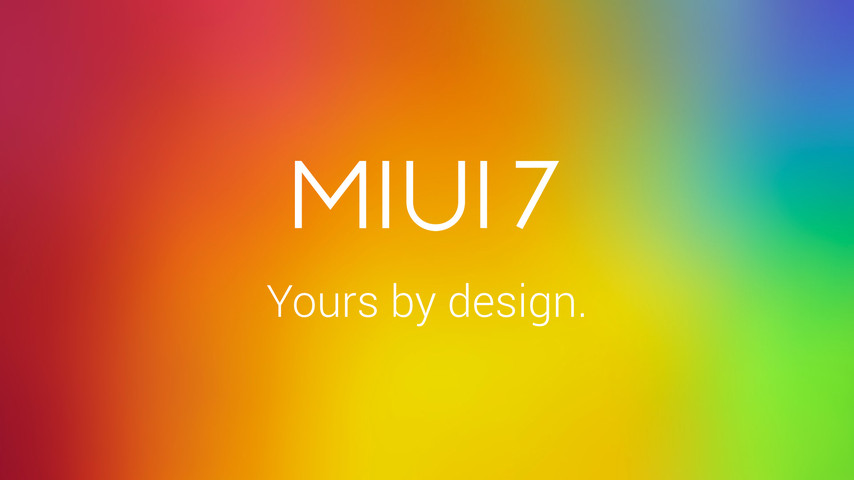 At a global launch event today at Delhi, Xiaomi, the parent company of MIUI launched the 7th iteration of the ROM while celeberating the 5 years of its existence. The ROM features several new and interesting features and comes with many performance improvements as well. The biggest performance improvements that I would love to point out would be the "Better Battery Usage" and "Optimal Performance for a better UX". While the presentation spoke nothing different from what was presented in China a few days ago, the only difference was that this was for the Global Audience. Read on to know what else was presented to the public.
MIUI was launched on August 16, 2010, and now has 48 official ROMs by MIUI developers + 480 community ROMs by MIUI fans.
During the past 5 years, MIUI has updated 250 times with its weekly updates!
In just 5 years, MUI has grown to over 150 million users in over 156 countries and regions!
Yours by design. That's why MIUI 7 has 4 different system designs for you to find your favourite style! 4 New Themes - Rose, Pink Blush, Ocean Breeze and High Life.
To celebrate the arrival of #MIUI7, Xiaomi is excited to launch the coloured versions of Mi 4i in India as a limited edition. Available 25 August 2pm exclusively on mi.com/in for RS.12,999
MUSE allows you to create Themes with rich animations and dynamic content easily without complex coding. Check out some of these cool themes created by Mi fan designers!
Be inspired by a beautiful selection of HD wallpapers, with 10 pre-set available on Daily Lock screen rotation. A wider selection is available on the International wallpaper market. Currently only available in India.
Top feature requests for MIUI 7 are about battery life and better performance.
MIUI 7 optimized system app start up time vastly
MIUI 7 also accelerated CPU
MIUI 7 optimizes system response time by loading data and app animation in parallel. That's a 30% speed increase that's immediately noticeable, and surprisingly fast.
Apps consume as much as 48% battery on standby by accessing GPS, network data and Wi-Fi scanning. By individually optimising popular apps, MIUI 7 improves battery life by 25%, giving you 3 hours extended use each day.
Go big with XXL Text on MIUI 7. A big, beautiful format that adjusts conversation layouts, line breaks to provide greater readability, unlike those found in other interfaces. Not just messages, XXL for everything!
Kids grow up too fast. That's why Baby album groups precious baby photos in your camera roll conveniently in once place, so you can browse and share pictures easily with friends and family. It allows you to use your baby's photos as your daily lockscreen
Childproof your phone with Child Mode, which limits access to personal information like emails and messages, while keeping restless kids entertained with apps that you approve and manage in Settings.
MIUI lets you sleep easy with Mi Band, which switches your phone to Do Not Disturb (DND) mode when it detects that you're asleep.
Surprise others when you call with Showtime! Record a short video loop on your phone and exchange contact card with friends. We'll be rolling this feature out in coming months so stay tuned.
Indian users account for a large part of overseas MIUI fans. Therefore we've made some India specific features- Skip annoying voice prompts with Interactive Visual Response (IVR). Available on for banking, booking air tickets and more from 50 Indian partners including Citibank, ICICI bank, Spicejet, Indigo, Tata Sky, HeroMotoCorp, and more.
MIUI 7 partners with Opera Max to provide Data Saver. It compresses browser and in-app media, letting you save up to 50% of data usage. Rolls out in September 2015 in China, India, Brasil, Hong Kong, Taiwan, Singapore, Malaysia and Philippines.
Rolling out 24 August, be the first to get your hands on MIUI 7 by flashing the developer ROM. MIUI 7 Global developer version currently supported devices - Redmi 1S, Redmi 2/Redmi 2 Prime, Mi4i, Mi4, Mi3, Redmi Note 3G, Redmi Note 4G.
The entire presentation is available for view
here
.
What is very disappointing is the fact that the ROM is still based on Android KitKat when Google has already released 3 iterations (5.0, 5.1, 6.0) since then. What do you think? Does this change warrant a version upgrade to 7 or should MiUi have stuck to something like 6.1?